BoardBooster is the tool to use if you want to automate your Pinterest.  And when it comes to ROI, you can't beat it. If you start with the minimum monthly plan of 500 pins for $5.00, all you need to do is make an affiliate sale a month (or a couple if you use Amazon affiliates) and you're already in profit.
But one thing that BoardBooster could improve on is its onboarding. As it is now, it takes a little while to figure out what you want to use it for and how to use it.
So I am going to walk you through the 5 things you need to do when you start using BoardBooster so you can save time and automate a lot of the work.
[Disclaimer: This post contains affiliate or referral links. This means I may get a small commission if you click on them. I only recommend products I have used and love and would recommend them anyway.]
Step 1:
The first thing you need to do when you sign up for BoardBooster is to join BoardBooster Tribes. Once you have uploaded your pins to each Tribe, they will share your pins automatically. And you will also share theirs, of course.
Some of the tribes vote to approve who joins the tribe and what pins are allowed in the tribe, but there are also some that don't. The BoardBooster tribes are quite recent, and most of the tribes are still quite small but they are very effective in helping you reach more people without you having to do a lot of work.
Plus if you are 
newbie
to Pinterest marketing, any help you can get by using other's resources is great.
Some tribes also allow affiliate pins as well as blog posts so it helps you make money on autopilot. 
How to Start:
Go to Pinning Tools and click on Tribes.
Then click on join tribe and select the tribes you want to join.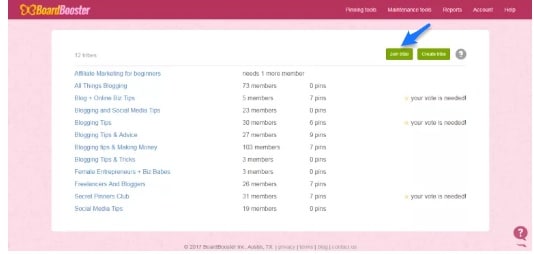 Once you have been accepted, upload your pins to each tribe.
Don't upload the url
to your blog posts, but the 
url
to each pin you want to share. Each board has a maximum of pins you can upload, so upload as many as you can. If you have more, schedule your newer ones and drop your worst performing pins.
If you don't have many pins but want to make the most of BoardBooster's tribes, use a different pin (different image and description) for the same blog post.
It's your turn
To share the tribe's pins, select the settings according to the rules in each tribe. Select a target board you want to share and set how often you will pin. 
TIP: Set up a board for "Great Blog Posts" or similar so you can pin things that might not be in your niche.
And that's it, it's done.
Step 2:
The second thing you need to do in BoardBooster is to set up looping. The two main things you are going to use looping at the beginning are:
– to keep pinning your own pins every day
to your "best of" board or "resources board", etc. For other boards or if you don't have that many blog posts, you can
pin less
often.
– and for your affiliate pins. (To learn how to make money with affiliate marketing on Pinterest check this out.)
So, what to do next:
Click on looping then select the board you want to loop
Again, set up the frequency and the time periods when you want to pin.
You can filter which pins you loop by adding the domains, so you can loop specific pins (your affiliate links, for instance). Other pins will not be looped.
Set up automatic deduplication and protection for viral pins.
Step 3:
The third thing you need to do is set up a scheduled campaign for any new blog posts. Then BoardBooster will share it 
to
 ALL your relevant boards and group boards at relevant intervals.
Create a new Scheduled campaign
Start with your "best of" board. Then add the next board for day 2, and the next board to day 3, etc. This way you don't have to remember to which board you have pinned things and you don't have to do it manually.
I have set mine up to pin daily to a different board. I will get more than 2 weeks worth of pins with each new pin. 
TIP: You can use this to pin older pins and keep your blog posts visible but some group boards do not allow for duplicate pins in 30 days. So be careful when you do that, change your pin images and descriptions to pin them again to such boards and make sure you rotate your pins (You can use Trello or something similar to keep track).
You can also use this type of campaign for similarly themed boards:
So, for example if you have one of your new blog posts that talks about a new Vegan recipe for cookies, you can schedule it for your "Best of" board, your "cookie recipes" board, your "vegan" recipes board, your "vegan recipes of the world" board, "vegan cookies" board and other group boards that also would fit.
TIP:
Make sure you have a campaign for boards that do not allow for duplicate pins at all, to keep them separate.
The fourth thing is to set up a pin sourcing campaign.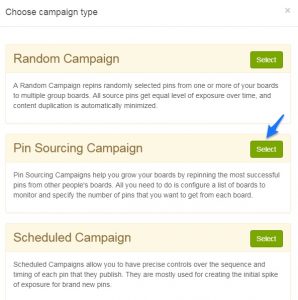 You don't want to be glued to Pinterest to load your campaigns. Go and find out a few boards where there are good quality pins in your niche and use them as a source.
This is also particularly good when you have joined group boards. Most group boards expect you to reciprocate by pinning other people's pins. You can set up BoardBooster to do it for you and forget about it. Start with one pin for each pin you publish to the board, or start with 1 a week.
For this, you might also want to use an "interesting blog posts" board. It's for general source boards with varied types of blog posts that will work for you to post to but might have posts that do not quite fit your niche.
If you want to change the settings just click on the cog:
Step 5
And now you have to set up 2 or 3 Scheduler campaigns:
You can use this for ALL pins, not just your own.
When you set up a Scheduler campaign BoardBooster creates a secret board for each Scheduler campaign and then uses this secret board as a queue to feed the other board. 
The good thing about scheduler campaigns is that you can batch your scheduling. Once a week or once a month, fill the feeder boards and you're all set. Remember it's not just about pinning your own things
,
but pinning some great content from other people too!
You don't have to do this for every board. But it really helps to have some boards you can "load" at the beginning of the week/month and forget about them.
---
These 5 steps are the things you need to do when you start with BoardBooster. Later on, when you feel more comfortable and you get more group boards or have a lot more content, you can create more complex campaigns. You can also use Random Campaigns and some of the other tools, like the Pin Doctor. But you can start with these 5 steps to increase your traffic and save lots of time.